Super Sexy Heroines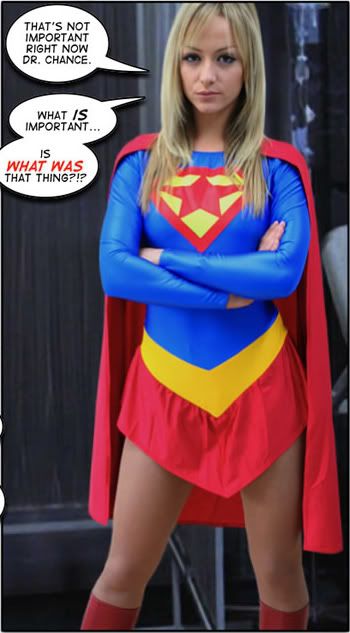 (photo by supersexyheroines.com)
I get bunches of MySpace requests every day, but this one caught my eye:
SuperSexyHeroines.com
. Whiskey Tango Foxtrot?
So I checked it out.
At first glance I thought it was a porn site. But in doing a little research it's actually
not
a nudie site, but instead an online photo comic book. It's subscriber-based ($18.95 a month and:
"SuperSexyHeroines.com is NOT an adult website. There is no nudity, no bondage, and no anti-female suppressive theme to the website.

This website is strictly about Super Sexy Heroines, and their adventures battling evil, and more.

SuperSexyHeroines.com is however a very sexy website. It features some of the sexiest girls on the Internet wearing sexy and powerful outfits. Whilst there is absolutely no nudity or even implied nudity, our heroines will be wearing tight-fitting spandex costumes.

With regards to themes, there is no anti-female themes, no masochism, no bondage, and no overt physical abuse contained on this website.

The SuperSexyHeroines.com online live-action comic books feature the same values of female equality and depict the same strong and assertive and postitive female roles that are found in any Wonder Woman, Supergirl, or X-Men comic book found in comic book stores."
Here's a few examples of their work:
Super Woman
Super Woman 2
Super Woman 3
Also, here's a
Casting Call
and them looking for
designers
.
This is the first kind of site I can recall seeing, but in thinking about it I'm actually surprised there's not more of them.