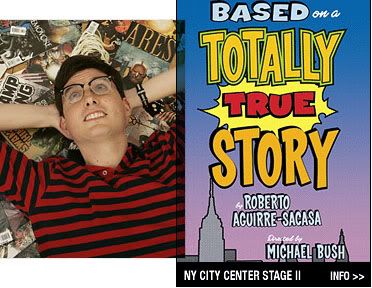 COMICS IN THE NY TIMES AGAIN
Aguirre-Sacasa: Playwright's Path Is via Comic Books
At the New York Comic-Con in February, Roberto Aguirre-Sacasa was treated to an object lesson in fame and anonymity. This 33-year-old comic-book writer went to the Comic-Con, a frenetic three-day orgy of comic books, video games and an appearance by the actress Milla Jovovich, to autograph his recent books for Marvel. But Mr. Aguirre-Sacasa, a relative newcomer, found himself seated next to Brian Michael Bendis, the prolific superstar behind "Daredevil" and the "New Avengers."
then later...
This month Mr. Aguirre-Sacasa's work will be on display again. His semiautobiographical comedy, "Based on a Totally True Story," opens on Tuesday at Manhattan Theater Club. It is a portrait of the artist as overextended dynamo, juggling romance, family and an unabashed pursuit of commercial success. He also has a short play in "Dread Awakening," a "Creepshow"-style anthology by various authors that runs through April 23 at the 45th Street Theater, while the Rattlestick Theater will present his 2003 alien-abduction drama, "Dark Matters," in October.
Interesting items taken from the article:
1) Aguirre-Sacasa's play, "Based on a Totally True Story," opens tomorrow. More info
here.
2) His dad is running of Nicaragua
Photo copyright Shiho Fukada for The New York Times